Digital Customer Segmentation: it's all about Trust.
Today's customers (consumers and enterprise users) have increasingly one thing in common: they are millennials in their prime of spending, who grew up in a technology and service context where shared access is preferred over ownership business models, social media is used as a natural way for self-expression and keeping-in-touch, and sharing of private data is often used to pay for "free" access to services. In that context customer segmentation needs to drastically evolve to be able to capture the essence of millennials and upcoming digital natives. In this article we list key aspects a digital customer segmentation model needs to consider.
DIGITAL ENGAGEMENT
Knowledge@Wharton described digital user segmentation succinctly along the dimensions of digital capability and trust / data sharing under the "Bring Your Own Persona (BYOP)" model. Knowledge@Wharton's focus has been on finance institutions, however BYOP is robust enough to be used in a variety of, if not all, digital customer domains.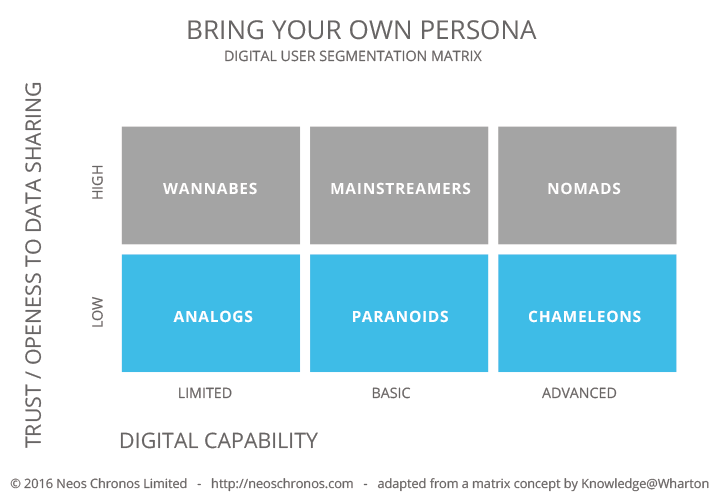 Digital capability is defined as the user's proficiency in utilising all the latest features, functions and services available in social, mobile, wearables and Internet of Things, e-commerce ... to improve their overall effectiveness and quality of life.
Trust is defined as "user willingness to share personal data and in some cases, relinquish privacy in exchange for a perceived benefit".
According to Knowledge@Wharton, "the distribution of users across these digital profiles will obviously change over time with a general trend toward the upper right (Nomads) of the segmentation map".
Detailed definitions of each segment and typical distributions can be found at the original article.
We consider "relinquishing privacy" a form of payment. When it comes to digital services, we tend to use the terms "user" and "customer" interchangeably.
SERVICE ENGAGEMENT
The combination of digital capability and trust depicted in the BYOP model provides a necessary foundation for digital user segmentation. As the following example demonstrates it is however not sufficient.
SOCIAL MEDIA USER SEGMENTATION (source: Forrester Blog)
Depending on a user's willingness to create social content, social media users could be categorised in
Creators: publish a blog, own web pages, create and upload video / audio, write articles or stories and post them
Conversationalists: update status on social networking site, post updates on Twitter
Critics: post ratings on products or services, comment on someone else's blog, contribute to online forums, contribute to / edit articles in a wiki
Collectors: use RSS feeds, vote for websites online, add tags to web pages or photos
Joiners: maintain profile on social networking site
Spectators: read blogs, online forums, customer ratings / reviews, tweets. Listen to podcasts, watch video from other users.
Inactives: none of the above
In the case of social media, digital capability and trust alone cannot uniquely position a user in the Creator segment. For that additional information is necessary e.g. amount of time the user invests in creating content in general. If you ever wondered why social networks replicate editor features from their competitors, or acquire competitors, you now have possible answers e.g. to motivate Creators to switch over, or to acquire Creators. The key insight: acquiring Creators for digital services might be as important as acquiring Intellectual Property.
Creators in the digital applications ecosystem are also known as Developers. Developers create applications that make app stores a worthwhile place to visit by millions of users, and turn connected devices to items users consider worth buying. In other words, developers create service engagement. The key insight: you are missing out on service engagement potential if you are offering a digital service that does not allow developers to access its functionality and combine it with other services to create improved and integrated user experiences.
IT'S ALL ABOUT TRUST
With increasing mobile penetration, millennials in their prime, and Generation Z closely on their heals, it is fair to assume that digital capability will soon become a less important segmentation criteria. To win over Creators, they need to trust that the data they are willing to share will be used to create "a future benefit for them or a broader group".
This is why we believe that Trust is the single most important criteria to include in digital customer segmentation. Trust needs to permeate all human and business interactions resulting from digital customer segmentation.
MONETISABLE MOMENTS
We started this article mentioning "consumers and enterprise users". For digital services this differentiation is rapidly becoming meaningless. The reason is that it whether a digital service is "consumer" or "enterprise" is decided by the active context at the moment of use. Here is an example:
Telefonica recently (as of the date of this article) launched its O2 Home offering in the UK, which includes a package of smart sensors communicating with a connected hub that allow home owners to remotely control a home camera, check presence of a person being in a room, turn on / off appliances connected to smart plugs, adjust the heating depending on temperature, etc. This has been launched as a consumer offering. Forget this for a moment and imagine launching the same package to small medium enterprises. Name it e.g. "Smart Enterprise", allowing to use the camera and presence for security purposes, smart plugs to save electricity, and the thermostat to both save heating costs and alarm in case of fire. The same package, the same people, different use case descriptions of the same functionality, and an experience that becomes "enterprise" by a simple change of context / location. O2 Home in its core is a "Smart Premises" Polymorphic Service Proposition, where premises is the Home or the Enterprise or, to mention another possible future context, the Car.
Digital User Segmentation together with Polymorphic Service Propositions can enable companies to map users on a single user profile, for which the user segment is determined in real-time at each interaction based on contextual information. By deriving such actionable insights using analytics on big data, companies can help users "improve their overall effectiveness and quality of life" at home, in the office and anywhere in between. Every service interaction becomes a monetisable moment. Hereby monetisation can be defined in multiple ways i.e. winning trust, increasing loyalty, up-selling, etc.
IN SUMMARY
The combination of digital capability, trust and service engagement is a necessary and sufficient basis for digital customer segmentation. The key opportunity is in using real-time contextual information to place a customer in a segment dynamically at each service interaction and act appropriately. This polymorphic view of a customer (single profile, dynamically changing digital segments based on contextual information) better reflects user experience. Focusing on on improving effectiveness and life quality across a user's daily journey creates multiple monetisable moments, and renders the static differentiation between consumer and enterprise users meaningless.